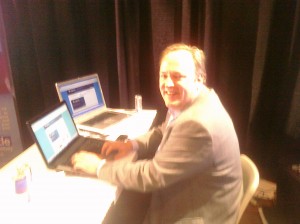 Streaming Media East 2010 – the day after report:  What is it about technology conferences that makes them so exhausting?
The exhibit floor this year was smaller then last years and I heard from the exhibitors that real "customer" presence was light, but of course for my purposes… that doesn't really matter.
Selfishly I have to say, I am only interested in technology innovations that are easy to integrate or deploy, that are affordable and of course, that actually work.  There was a lot of discussion around scalable technology, SD to HD workflow transitions, adaptive (bit rate) streaming… and of course, highest on the list is the promise of "unified systems" (as it is referred to in the Enterprise) or single signal transmission to multiple devices, something along the lines of TVEverywhere type availability of broadcast content, but specifically one feed that can play back on any device (i.e. Mobile, Desktop, Set top box, etc.).
That's a lot to think about, but I was able to pin-point my priorities and focus on putting together a package that would work for me and my budget… and here is that journey.
The conference took place at the New York Hilton, as it has for the last several years.  Upon arrival to the show floor, one flight up via escalator, one was greeted by Kevin Shively at the entry and his A/V crew set up & ready for live interviews (you can view the replays here).  I couldn't help but notice that this year Kevin and his trusty A/V crew (Pete) were equipped with the NewTek Tricaster TCXD850, this is the model that supports HD workflow (and will easily plug & play SD so you can ease in as you upgrade equipment and peripherals).  The Tricaster still runs on XP OS and I was a bit concerned about Microsoft's recent announcement that they would no longer support Windows 2000 and XP O.S.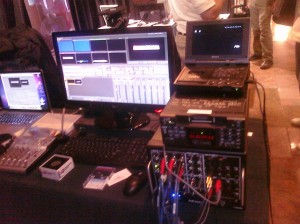 In light of this concern I made sure my first stop on my updated workflow mission was to hit the NewTek booth and ask a guru.  I interview Will Waters, a NewTek Systems Integrator who was doing live demos on the show floor, and he assured me (*party line*) that NewTek is working with Microsoft to ensure support, however the unit is released to market on Windows XP.   This does concern me for the long term, but if one needs a workflow solution now I believe the Tricaster is the "best" studio in a box for the buck.  Of course, I would recommend not using it as your live encoder while producing a live webcast nor would I recommend going on the road with just one (I would prefer to have a back-up unit or solution like having a UStream.tv account with their UStream ProducerPro which is switcher ready and is pretty inexpensive for what you get.
On a side note, the Tricaster comes configured with UStream presets, however when I asked Will about this he was quick to redirect and position the product as being more "ubiquitous" so I suspect that relationship may have changed somehow, at least "politically".   Just an interesting note. (And I did not see anyone from UStream.tv present at the conference, so… do the math!)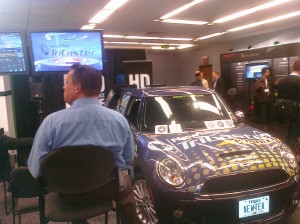 NewTek was plugging away at the capabilities of the mobile unit and their up-coming "Varsity Tour" (vehicle seen in the picture to the right), of which they boast:  NewTek will visit multiple cities to host live events, inviting audiences to check out the benefits of a giant live HD TV truck that fits in a backpack.
The strategy is this, they know that the trick to keeping their products relevant is attracting talent and expert users of their products, so they are hitting the Education trail to get kids hooked on their products early!  Makes sense…
At this point I have myself a nice little plan, Tricaster with a UStream.tv backup/failover plan… now I needed to figure out what to do with my transmission and how to send it out to the world.
My eyes usually glaze over and mind fog sets in at these events, I was lucky enough to run into Lisa Larson-Kelley (follow @lisamarienyc on Twitter) who was on her merry way to the A105: HTML5 and Web Video Standards session, moderated by Tim Napoleon, Co-Founder, President, Alldigital with panelists:
Jennifer Taylor, Director, Flash Content Creation and Distribution, Adobe Systems, Inc.
Monty Montgomery, Director, Xiph.Org Foundation
Greg Harris, Chief Creative Officer, Daily Interactive
Justin Eckhouse, Senior Product Manager, Video and Mobile, CBS Interactive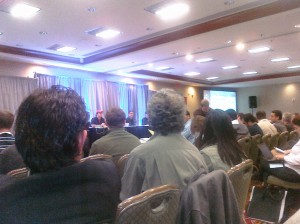 The session was packed, standing room only!  It turned into (or tired to turn into) an Open Source vs. The Man type of debate that didn't really go anywhere.  Here is how I read the session:
CBS = We wait & see to drive innovation
Adobe ="Hello, my name is Adobe & Flash is a CPU hog" "Welcome Adobe" – The first step to recovery is admitting you have a problem [and, scene!]
Daily Interactive = I don't remember anything this guy said, and I wasn't even drinking yet.
Xiph = Stop talking & Just do it! [or something like that! You know, something really Open Sourcey and philosophical….]
Bottom line, I am looking at the HTML5 specification and it's really no harder than HTML/XML but it has a fancy number – did you know the the number 5 is the most graphically desirable number since it contains both curve and straight line and it also represents my favorite Mambo?
The technology that really caught my eye this year is the ever affordable, pseudo non-political, ubiquitous, codec agnostic product engineered by team Wowza.  Their party line:  Wowza Media Server is the world's first platform that lets you stream from one H.264 encode simultaneously to multiple players and devices. It unifies the multi-protocol, multi-player H.264 streaming into a single workflow, eliminating the need for multiple player-specific encoders and servers. And Wowza Media Server 2 delivers all that at an unbeatable price — 75% less than the single-protocol Adobe Flash Media Interactive Server (FMIS) or Microsoft Windows Server® with IIS.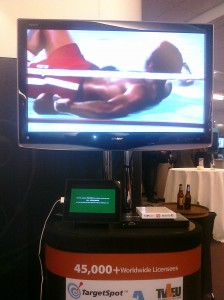 I spent quite a bit of time with the fellas from Wowza trying to figure out what their party line is, we even broke bread… So, maybe I came close to drinking the cool-aid but the fact of the matter is simple:  I said it had to work.
FACT:  I was able to view their demo on the floor and they went in depth into how they used the VLC player as an encoder to get the video off of the server (running on an HP laptop) and over their "lab" network were able to just play back the url in the browser on the iPad.  I could "see" it working and accept the fact that this was just a demo.  They were honest about that.  Good.
FACT:  I really think the benefit of their product is in the price-point and ease of deployment, as Alex Dobrushin, Chief Marketing Officer, walked me through the set-up on say… An Amazon ECS account… the CMO described how all I have to do is take the Wowza pre-configured server image and load it up to my ECS instance.  Wowza offers a free demo that I plan to download from their site in order to build out my first Amazon Wowza media server.  This right here is the foundation of what a CDN is.  Of course I don't want to be a CDN, I just like to stream the media to the people!
I did a round of interviews with A.M. Arno of Bandwidth Bastard fame and will be editing some clips of my exploits for your viewing pleasure shortly.
Last Word:  I got what I needed out of this conference and I hope that you got something out of this post, now go brush up on your motor skills and get some exercise!