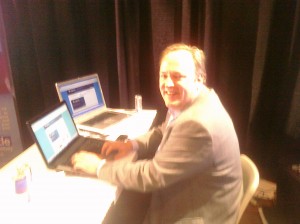 Streaming Media East 2010 – the day after report:  What is it about technology conferences that makes them so exhausting?
The exhibit floor this year was smaller then last years and I heard from the exhibitors that real "customer" presence was light, but of course for my purposes… that doesn't really matter.
Selfishly I have to say, I am only interested in technology innovations that are easy to integrate or deploy, that are affordable and of course, that actually work.  There was a lot of discussion around scalable technology, SD to HD workflow transitions, adaptive (bit rate) streaming… and of course, highest on the list is the promise of "unified systems" (as it is referred to in the Enterprise) or single signal transmission to multiple devices, something along the lines of TVEverywhere type availability of broadcast content, but specifically one feed that can play back on any device (i.e. Mobile, Desktop, Set top box, etc.).
That's a lot to think about, but I was able to pin-point my priorities and focus on putting together a package that would work for me and my budget… and here is that journey.